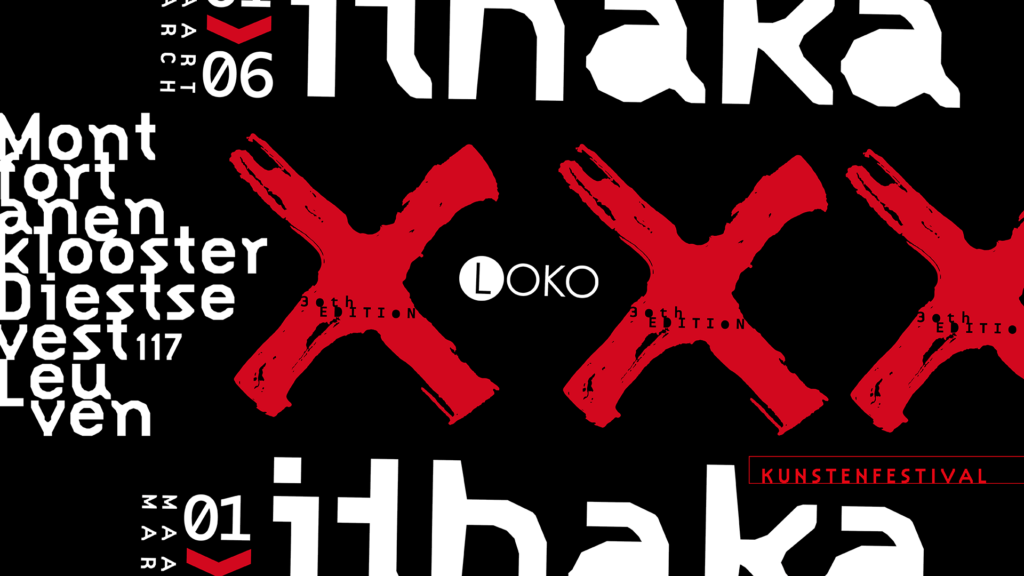 LOKO presents…
Ithaka 30 ❌❌❌ sex sells
From March 1 to 6, the Montfortanenklooster in Leuven will be completely dominated by art. The arts festival Ithaka is celebrating its thirtieth anniversary this year with the theme 'sex sells'. Related themes such as intimacy, affection and surrender will also be explored.
Ever since its first edition in 1993, Ithaka has offered young, talented artists the opportunity to show their work to the outside world. Over a period of thirty years, the event has grown from a one-day exhibition into a multi-day festival with numerous events for young and old. Yet the underlying idea has remained unchanged. Ithaka wants to bring students and the people of Leuven in contact with contemporary art, and offers young artists a canvas on which to express themselves. Each year a unique, unoccupied building is chosen. This year Ithaka will take place in the Montfortanenklooster in Leuven, which has been established as an architectural heritage site. This beautiful monastery, designed in 1883, is located only a few minutes away from Leuven station.
During this art week, several activities will be organized: workshops, performances and music evenings. Be sure to keep an eye on our Facebook page and Instagram for more information! Instagram: @ithakafestival
Artists: Aileen Kim, Byron De Weerdt, Lola Ilegems, Margo Jordens, Margot Delaet, Marnix Krekel, Max Emma Hellickx, Paula Swinnen, Rachel Daniëls, Ruben Goffin en Arwen Arnauts, Rustam Ablyaev, Sarah Verspaandonk, Silke Wossmann, Thomas Lefèvre, Tobias De Win
Sponsors: KU Leuven, Stad Leuven en Provincie Vlaams Brabant
Free entry.
Opening hours:
March 1-5: 14:00-22:00
March 6: 10:00-14:00